Introducing The
Extreme Clean FILTER.

NEVER BUY ANOTHER FURNACE FILTER AGAIN!
Time To Make A Change!

Millions of pleated filters are thrown away each year, and thousands of trees are cut down to produce the cardboard that comprises the outer frame of disposable filters.
Just imagine that if millions of homes and condos changed their filters 6 times a year and disposed their old filters to the land fill that is 6 times the millions and millions of homes in North America. The figure is truly staggering.
Eco-filter is proudly made in Canada and is by far the best quality furnace filter on the Market today. With superior filtration to a 3M furnace filter with greater airflow, the Eco-Filter has no rivals.
One of the most important features that sets the Eco-Filter apart from it's rivals is that it is washable and reusable, and is guaranteed for 25 years of service. What this means is you will never have to buy another furnace filter again.
Think about it, if everyone had an Extreme Clean FILTER the environment would truly see a difference. It's all about making small, but thoughtful and responsible decisions that will truly create large and meaningful results.
Extremely Low Maintenance, Impossible To Forget To Clean!

Extreme Clean FILTER incorporates a patented Air Alarm that notifies you when it is time to clean your filter.
When your filter begins to get dirty it will restrict the airflow which will force air through the patented whistle.
This will alert you to the fact that it is time to clean the filter.  By using this method of alerting the owner to the need to clean the filter forces them into better habits.
This has many advantages. Your filter and handling system operates at its designed peak performance. Dust dirt and contaminants are trapped in the filter and are cleaned before they are pushed out into the air stream.
Cleaning is extremely easy, simply run it under water with either a kitchen sink, wash sink, shower, bathtub or garden hose. The indicator on top of the filter will tell you the direction to rinse the filter. It literally takes less than a minute. Simply shake to dry and place it back into your furnace. The airflow will dry the filter within a few minutes. It's that easy!
Cheers To Your Health! An Eco-Filter Will Drastically Increase Your Indoor Air Quality In Your Home
It's a known fact that the indoor air quality in our homes as well as at our workplaces are unacceptable levels. Allergy sufferers are uncomfortable, as well our long term health is at jeopardy as many of these contaminants like mould, fungi, dust-mites as well as viruses continue to circulate with free reign in our airspace and we continue to be at constant risk for illness, headaches and general mal-ease. These are real problems that face all of us on a daily basis.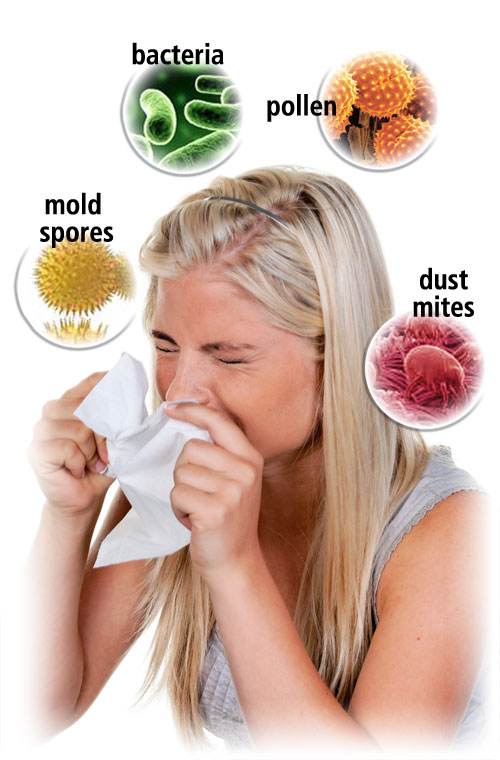 Good News! There things we can do about it, and the Extreme Clean FILTER is one of them.
Extreme Clean Filter Air Filter is  made with an Anti-Microbial property that helps to eliminate organic contaminants such as dust mites, fungi and other harmful bacteria.
By filtering out these indoor air quality contaminants and providing a better filtration than standard furnace filters, you will breathe cleaner, fresher air.
The Extreme Clean FILTER has an arrestance of 96.5% and holds up to 165 grams of dust. These numbers are far superior than our competitors. In addition to being such a high filtration furnace filter, the airflow for the Extreme Clean FILTER is rated at a level of MERV 7.
What this means is there is very good airflow therefore it will not affect the performance of your furnace, in fact it will improve it!
If you are using a high filtration filter at home right now, you are likely sacrificing performance on your furnace, it may even be costing you more money in energy because your furnace is working harder. This will not be the case with  Extreme Clean FILTER.
This is ideal for individuals with allergies or compromised immune systems. With Allergy season soon upon us, buying an Extreme Clean FILTER today is a  step in the right direction for your health as well as the health of your family.
Buy One and You Are Done! NEVER Buy Another Furnace Filter Again!
Our warranty is the most comprehensive warranty around. If you have ANY problem with the quality, performance or a manufacturing defect, we will replace it at no charge.
If you purchase an Extreme Clean FILTER and you move or change furnaces and it doesn't fit the new furnace we will exchange it for FREE. No questions asked!
You will never need to buy another filter for 25 Years. This will literally save you thousands of dollars over the lifetime of the product
For More Information on how to purchase the Extreme Clean Filter, Simply Call us Directly at

613-276-8667

or fill in the form and we will get back you promptly.